Esordio nudo e crudo come non se ne sentivano un po' da queste parti; i milanesi Heidrun irrompono con un ep colmo di entusiasmo, di power-chords distorti e pomposi, confinanti con un hard-rock potente ma non assillante: Bipolar Wishes rimbomba adrenalinico, veloce e magnificamente spazientito.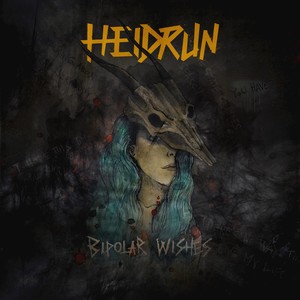 Nati appena nel 2016, agli Heidrun sono quindi concessi errori, incespicamenti e vizi di forma, tuttavia nelle cinque tracce qui presentate, questi si riducono solo a peccatucci di inesperienza; la forma-canzone è mantenuta abbastanza lineare, come lo stile secco ed incline ad una baraonda di volumi, con distorsioni endemiche alla giovane età del quartetto. Le chitarre di Jacopo Moretti ed Emanuele Ricciardiello si dividono educatamente il compito tra melodia e ritmica, mentre le percussioni ed il basso rispettivamente di Roberto Ciucci ed Andrea Luca intrecciano buone trame corpose su cui stendere un cantato vivace e sempre sostenuto. Buoni arrangiamenti, senza troppi e schizofrenici cambi di tempo, consolidano un sound spontaneo e decisamente rockettaro, cogliendo sfumature che spaziando dalle velocità punk, alla consistenza di un heavy sotto l'effetto di Ritalin, concludendo l'ep con venature più morbide ed orecchiabili.
In cerca di esperienza e soprattutto di suonare dal vivo, gli Heidrun non possono che migliorarsi, partendo comunque da una base solida e da un'idea musicale che non si contraddice durante il proprio cammino. Here I Am è una dichiarazione d'intenti piuttosto precisa: power-chords perentori, cori smaliziati con un'intelligente sovrapposizione di voci nei momenti giusti, ed una sezione ritmica crudele e sempre martellante. Chorus arrembante e senza cali di tensione certifica la sicurezza della band, che non sa rinunciare all'immancabile assolo a tre/quarti del brano che preparare il terreno ad un finale pirotecnico. Un pernicioso intro di basso fa capolino della nervosa After All; gli ingredienti rimangono pressoché gli stessi, rimarcando la posa che gli Heidrun vogliono mantenere; eppure nella successiva Ode of Joy l'effetto "celtico" sovverte ogni pronostico, virando successivamente verso cavalcate chitarristiche maideniane purificate da un cantato pulito e molto personale. Un compromesso discreto che rinuncia alle velocità, aggrappandosi alla vivacità di un riff (talvolta ridondante) tanto ammiccante, quanto originale in questo determinato scenario.
Le ultime due tracce dell'ep cambiano decisamente pelle: la focosa Rolling Thunder cavalca un ritornello orecchiabile e composto, mentre tutt'intorno le velocità ribollono frizzanti ma forse un po' ovvie; mentre la conclusiva Blazed (The end of an heartbreaking story) scivola in un oblio di sensibilità e di rimpianto, portando con sé un cantato evocativo, ma un pizzico scontato in alcune scelte stilistiche, il finale -giustamente platonico- tuttavia smorza subito tale impressione.
Bipolar Wishes si emancipa dal solito indie generazionale e sensibile, ma pure dalla scolorita memoria di un heavy gentile che andava qualche anno fa; gli Heidrun sono abili a mostrare i muscoli (e le distorsioni) quando serve, ed a maneggiare ritmi più lenti quando il momento lo richiede, senza cadere nello scontato e nel già sentito … la dimensione live non può far altro che migliorare un già ottimo carico d'adrenalina. Non lo dico mai, ma stavolta sì: Rock-on Heidrun !!!
Heidrun facebook
Host di destinazione non consentito, sblocca la connessione nel pannello di AlterVista (Risorse > Impostazioni PHP)
Bipolar Wishes – Heidrun
ultima modifica:
2017-05-23T11:30:54+00:00
da